John carpenter They Live Conspiracy Theory & Paranoia
Mouth of Madness John Carpenter
They Live-john Carpenter
PHOTO JOHN CARPENTER'S " THEY LIVE"(1988) YUPPIES UNMASKED???
Posted by Hello

Another favourite film of mine about the subject of the Yuppie Plague is John Carpenter's

THEY LIVE

(1988) which I have talked about before. It was directet & written by John Carpenter who also created the original music for the film. It is rather compelling viewing like most of Carpenter's films from "Assault on Precinct 13" & "HALLOWEEN" to the intense monster-fest " THE THING" & his extraordinary & mind-bending " IN THE MOUTH OF MADNESS" to his other two more blatantly political & subversive films "ESCAPE FROM NEW YORK" & " ESCAPE FROM L.A." Carpenter is one of the great masters of horror & science fiction.

POSTER OF JOHN CARPENTER'S " THEY LIVE "
Posted by Hello

IN "THEY LIVE " JOHN Carpenter uses science fiction themes of the totalitarian state using a form of mind control i.e. a signal broadcast by way of tv as in David Cronenberg's

Videodrome

(1983) but in

They Live

the control is more pervasive as the main character Nada , a construction worker, played by Roddy Piper discovers. When he finds a pair of sunglasses which enable him to see things as they really are that is; he can now see the subliminal messages on billboards & in magazines & he can see the ugly alien creatures as they really are who have blended into the society using their mind-control techniques. And when he puts on the glasses the world is no longer in colour but it is a black & white world . Nada 's reaction is one of shock & disbelief since the control is so pervasive & THEY are everywhere. Feeling alone & desperate he gets a rifle & starts killing the aliens in broad-daylight in the downtown core of the city. He is chased by alien & human police .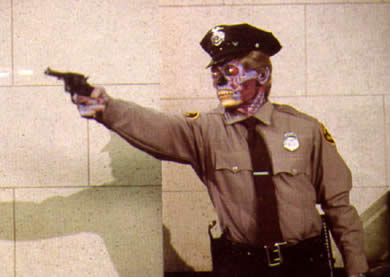 ALIEN POLICE OFFICER IN JOHN CARPTENER's " THEY LIVE"
Posted by Hello

He escapes by jumping into Holly's(played by Meg Foster) car & hides out in her apartment til she tosses him over her balcony. She has her doubts or as one wonders later on in the film ; is she a collaborator with the aliens from the beginning.

NADA EXPLAINING HIS CONSPIRACY THEORY TO HOLLY IN JOHN CARPENTER'S " THEY LIVE "
Posted by Hello

He then goes to Frank(played by Keith David) also a construction worker he has just made friends with & asks him to put on the glasses so he will know the truth. Frank thinks Nada is crazy & refuses to put on the glasses which leads to a fifteen minutes long fist fight til Frank finally gives in. The fight is a real slug-fest which some may find a bit too long but the fight occurs in the film at a point where it doesn't detract that much from the story. In fact, it adds to the tension & frustration of what is going on & allows the viewer to empathize more with Nada who is a straight forward naive & honest character who has always tried to play by the rules as he waits for the big break .

AFTER THE SLUG-FEST FRANK SEES WHAT NADA HAS ALREADY SEEN IN JOHN CARPENTER'S " THEY LIVE"

This helps to explain in terms of the film how shallow & materialistic & unsympathetic the 1980's Yuppie crowd have become they no longer have normal or natural human feelings about their fellow-human beings. Those in power have been co-opted by the aliens and are ruthless using force to maintain power. We see this illustrated as the police & soldiers invade the shanty town where the homeless have taken up residence. People suspected of being members of the underground are summarily shot by a firing squad .

MORE ALIEN POLICE IN JOHN CARPENTER'S "THEY LIVE"
AS THEY CHASE NADA & FRANK.

Posted by Hello

Unlike the fantasy type ending of the film these cold-hearted money- grubbing middle- class are still among us but in a way they have always been. It is sort of like Pres. G.W. Bush claiming he cares about the working class while he continues to amass afortune for himself & his friends . People like him will say anything & promise anything to get elected & to maintain the Status Quo & creating more opportunities for their children while they continue to take advantage of anyone they can. & do it while smiling.
Or as the popular song around that time preached "DON'T WORRY BE HAPPY"
Or as Sheryl Crow sings "I wish everyone would just lighten up"
Tell that to the Marines & guards at US detention centres or to tens of thousands of American Muslims who feel they have been living in a Virtual Internment Camp since 9/11.

PHOTO RODDY PIPER IN JOHN CARPENTER'S " THEY LIVE" (1988) "I HAVE COME HERE TO CHEW BUBBLEGUM & KICK ASS, AND I AM ALL OUT OF BUBBLEGUM"
Posted by Hello


AND as James O'Ehley from The Sci-Fi Movie Page puts it:
"Probably one of the most subversive films to have come out of Hollywood in decades, They Live is a welcome return to form by legendary cult film director John Carpenter (John Carpenter's Escape from L.A. (1996), John Carpenter's The Thing (1982)) after having directed such abysmal efforts such as Memoirs Of An Invisible Man.

A lonely drifter gets hold of a pair of glasses through which the terrible truth can be seen: the rich are aliens who have already taken over the earth! Billboard advertisements and television broadcasts actually contain subliminal messages such as "Consume", "Watch Television" and "Marry and Reproduce!" All this give new meaning to William Gibson's dictum that the rich no longer resemble anything human!

It's difficult to dislike a film with an attitude like this one. Even when the film forsakes its satiric points and degenerates into a straightforward action thriller, one cannot help but like this film. Take that yuppie scum! "


AND on

THEY LIVE

see:


www.theofficialjohncarpenter.com/




Also see:

SCIFLICKS.COM




http://www.sciflicks.com/they_live/






On THEY LIVE




For a different analysis from the Right see:




http://tim.2wgroup.com/blog/




Random Observations: Review: John Carpenter's "They Live"



That's all for now,
GORD